Religious Education
At Gascoigne Primary School, we believe that Religious Education assists us in promoting the moral, spiritual, cultural and social development of children; preparing them for the responsibilities that they will undertake in the future. We believe that to prepare our students for life in the global community it is vital that we equip them with the skills and opportunities to make judgements about ethical and moral issues, as well as making informed decisions regarding their own beliefs and the beliefs of others.
We strongly believe that all children need to acquire the core knowledge and understanding of the beliefs and practices of the major religions and world views which not only shape their history and culture, but also guide their own development. The modern world needs young people who are confident in their own beliefs and values, so that they can respect the religious and cultural differences between people and contribute to a cohesive and compassionate society.
Therefore, at Gascoigne Primary School, considering the needs of our pupils and our diverse school community, teachers seek to develop the characters in our classrooms in line with our curriculum vision statement (Ourselves, Our World, Our Education, Our Rights).
We offer an L.B.B.D (London Borough of Barking and Dagenham) agreed syllabus for Religious Education, and it is implemented through the school's RE scheme of work.
On top of delivering high quality teaching and learning through planned lessons, teachers at Gascoigne Primary School plan and create opportunities for pupils to experience and visit places of worships, and role-play ceremonies and rituals to enable them to immerse themselves in their diverse global communities.
As a result, we are able to build on our students' understanding of the British Values of Mutual Respect and Tolerance. Through hands-on experiences, our students develop their understanding of the similarities and differences between religious and non-religious world views, alongside developing a deeper understanding and reflection of their own beliefs and practices.
The provision for Religious Education has been graded good in our recent Ofsted report, with the report stating, "For example, in Religious Education, leaders have identified precisely the subject-specific knowledge and skills that pupils will learn in each topic. This helps teachers to check that pupils are gaining knowledge and remembering what they should be" (Ofsted official report-June 2022).
Our students also develop a genuine interest and understanding towards people from various faiths, and parents usually give us positive feedback regarding that. See below for some recent feedback that a parent shared via Seesaw.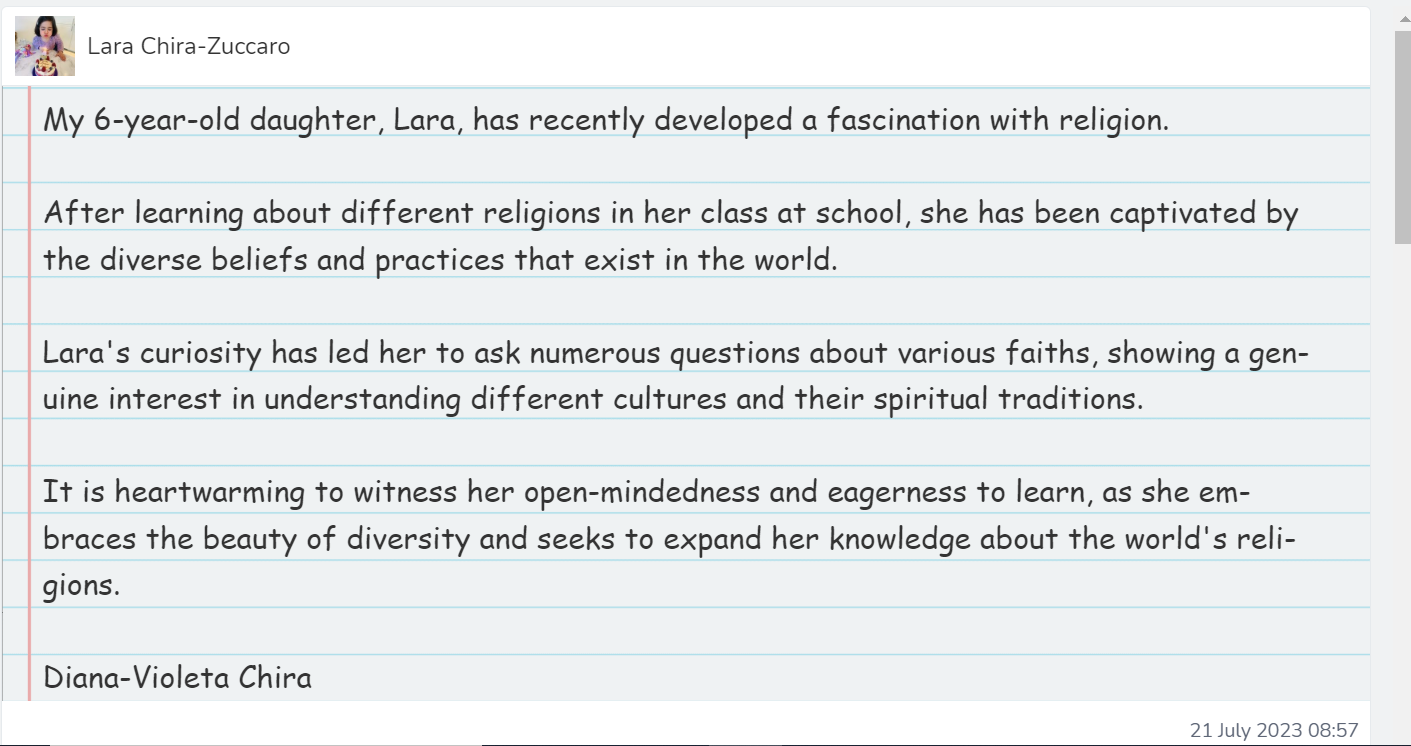 Children's Work
---
Gascoigne Primary School is a rights respecting school.
UNCRC Rights:
Article 30 Every child has the right to practice one's own culture, language and religion.
Article 14
Every child has the right to think and believe what they want and to practise their religion, as long as they are not stopping other people from enjoying their rights.